VACETS Viet-Tech International Conference '1996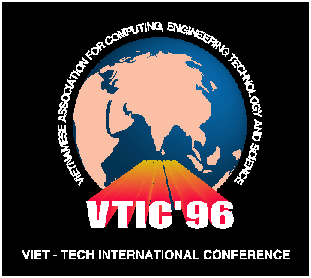 July 1-3, 1996
George Mason University, Virginia, U.S.A
The phenomenal change in the world today, particularly in the United States of America, has resulted, to a great extent, from the works of scientists and engineers, among them an increasing number coming from the Asian Pacific countries. Since 1975, Vietnamese immigrants have made significant contributions to the growth of science and technology in their adopted countries all over the world. In recognition of their contributions, the Vietnamese Association for Computing, Engineering Technology, and Science (VACETS) which has over 850 professional members, will hold the Viet-Tech International Conference 1996 (VTIC'96) to highlight the major achievements of Vietnamese engineers and scientists and to promote cooperation and partnership between Asian Pacific and Western engineers and scientists to work on new ideas and developments in science and technology.
---
OBJECTIVES
BENEFITS TO VTIC '96 PARTICIPANTS
* Know more about VACETS, its members, and its activities.

* Be aware of the major inventions of Vietnamese engineers and scientists.

* Access to a pool of highly trained professionals.

* Network with other professionals and potential business partners.

* Interact with business CEO's.
TIME and PLACE
July 1 - July 3, 1996
George Mason University
Fairfax, Virginia, USA
HIGHLIGHTS OF THE CONFERENCE
* Keynote addresses by business leaders, senior government and elected officials.
* Daily track sessions discussing a wide range of topics - case studies, trends in technology, industry spotlights, and business management.
* Informative tutorials and workshops.
* Exhibit booths presenting important inventions.
* Demonstration of high-tech products.


FOR UPDATED INFORMATION

Send general requests for information to:

VACETS-VTIC
P.O. Box 4168
McLean, VA 22103-4168
Voice/Fax: (703) 760-9198
E-mail: vacets-vtic@vacets.org
LOCAL ATTRACTIONS
Washington, D.C. and nearby areas are favorite destinations for tourists, with numerous museums, historic sights, and opportunities for shopping, etc. The Smithsonian Museums are located halfway between the U.S. Capitol Building and the White House, each in itself is worth a special trip. Tours of Washington and other attractions may be arranged with New World Travel at (800) 365-9165.



CONFERENCE SITE
REGISTRATION FEE
The early registration fee is $100.00 for VACETS member. To qualify for the early registration rate of $100.00, full payment must be received before May 1st, 1996. The registration fee includes admission to all invited talks, paper presentation sessions, exhibits, and two dinner banquets.Registration fee after May 1, 1996 is $120.00. Registration fee for non-VACETS member is $120.00



ORGANIZING COMMITTEE
Executive

Dr. Viet-Dung Hoang
Thao M. Le
Dr. Thong Tran

Comptroller

Em H. Le, CPA

Conference Co-Chairs

Dr. Tien M. Nguyen
Diem V. Nguyen

Technical Program

Prof. Thinh D. Ngo
Dr. Tue Nguyen
Prof. Tri T. Ha

Exhibition

Hung Q. Vu
Toan Bui

Finance

Thao M. Le

Patron

Khai D. Le

Public Relations

Prof. Hung M. Nguyen
Tony Cao

Publication

James T. Lap
Nga T. Le

Registration

Le Huynh
---
Last updated: 10 March 1996 Le Huynh , Tony Nguyen; Modified by: Diem V. Nguyen More information, please contact to: vacets-syst@vacets.org


Copyright © 1994, 1995, 1996 VACETS. All Rights Reserved.